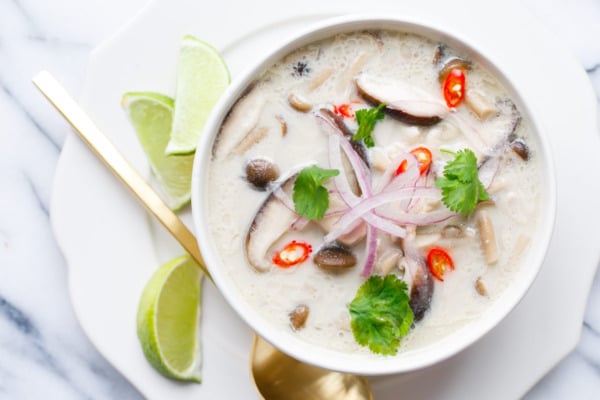 Tom Kha Soup
Ingredients
2 Cups Coconut Milk

1 Cup Finely Chopped Broccoli

1 Cup Mixed Vegetables (Carrots, Baby Corn, Beans)

1 Cup Finely Chopped Onions

1 Tsp Minced Garlic

1 Tsp Minced Ginger

5 - 6 Inches Lemon Grass

1/2 Cup Mushrooms

1/2 Cup Chickpeas

2 Tsp Celery Chopped

1/2 Tsp Basil Leaves (Optional)

Salt to Taste

2 Tsp Peanuts Powder

Juice of 1 Lime
Instructions
Garnish with peanut powder, celery and lime juice and serve.
Notes
Saute the Onions till they sweat and add the garlic and ginger paste.
Add the vegetables along with 2 cups of water and lemon grass and let them cook.
Once cooked reduce the flame and add salt and coconut milk.