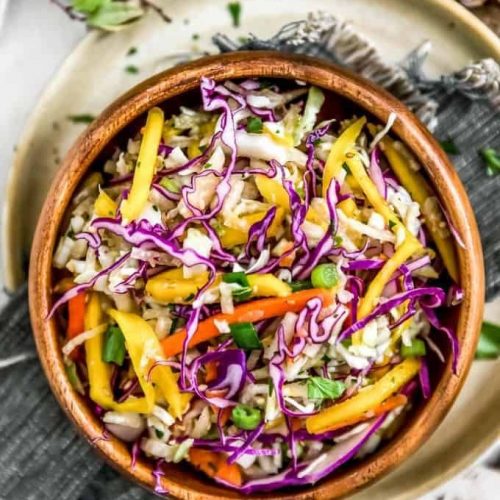 Cabbage Mango Slaw
Ingredients
2 cups shredded cabbage (mix of green and purple)

1/2 cup shredded carrots

1 mango, not fully ripe

1 medium spring onion, chopped

½ tbsp vinegar

½ lime, juiced

½ tbsp low sodium soy sauce

½ tbsp sesame oil

1 tsp black and white sesame seeds

Bird's eye Chilli or Red Chilli Flakes

1 Tbsp Toasted Peanuts
Instructions
Julienne the mango (cut into strips).

Combine with the cabbage, carrots, spring onions and toss together in a large bowl.

Prepare the dressing by whisking together the vinegar, soy sauce, and lime juice; slowly whisk in the oil.

Pour the dressing over the cabbage mixture and toss to coat.

Let it sit at least 15-20 minutes to let the dressing soak in.

Serve sprinkled with sesame seeds, Bird's Eye Chilli Slivers and Toasted peanuts garnish.